July 28, 2002
Fort Tryon Picnic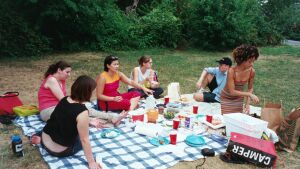 Met some friends at Fort Tryon park near the Cloisters for a picnic. I brought the proverbial
bucket of KFC chicken
. While walking through the park, I noticed a cute little cafe that I've put on my list of places to try called
The New Leaf Cafe
. I haven't had good luck with picnics - it was really hot and humid, and at the previous picnic I was on (4th of July 2002) in Central Park it was also amazingly, meltingly hot.
---
Comments
Provide your email address when commenting and
Gravatar
will provide general portable avatars, and if you haven't signed up with them, a cute procedural avatar with their implementation of
Shamus Young's Wavatars
.
Comments have now been turned off for this post