July 24, 2002
Some Freak Magazine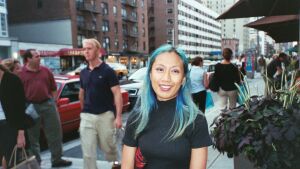 7/24/2002 Evening - Went downtown to meet Benkei and friends. Had dinner at
Cafeteria
. Looking over the menu, I just had to get the Fried Chicken and Waffles. I love breakfast. I'm a big fan of fried chicken. Why not put them together? Before eating, I took a picture of a cute blue-haired girl. I asked before hand, just because you know, it would be strange otherwise. Not like it wasn't strange enough as it was. Anyway, when I took the picture she said that she had made a face, but I said that was fine, since I didn't want to make her feel like I was hitting on her or anything. As I left, her friend said "Oh great, now you're gonna be in some freak magazine."
---
Comments
Provide your email address when commenting and
Gravatar
will provide general portable avatars, and if you haven't signed up with them, a cute procedural avatar with their implementation of
Shamus Young's Wavatars
.
Comments have now been turned off for this post