July 28, 2002
Fort Tryon Picnic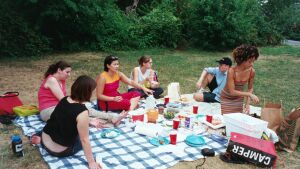 Met some friends at Fort Tryon park near the Cloisters for a picnic. I brought the proverbial
bucket of KFC chicken
. While walking through the park, I noticed a cute little cafe that I've put on my list of places to try called
The New Leaf Cafe
. I haven't had good luck with picnics - it was really hot and humid, and at the previous picnic I was on (4th of July 2002) in Central Park it was also amazingly, meltingly hot.
July 27, 2002
The Mercer Kitchen
Brunch downtown at SoHo with Y.I. at a place I've been meaning to try,
The Mercer Kitchen
. Brunch has been one of my favorite meals lately, and I've been frequenting Kitchenette Uptown, so it was nice to compare. I had a great pancakes with banannas and mixed berries dish. Really fresh, tasty fruit. Afterwards, we checked out the new Apple store (pretty cool!) and did some shopping in the area. I picked up a new candle from Portico and some clothes on sale from Bananna Republic...
July 24, 2002
Some Freak Magazine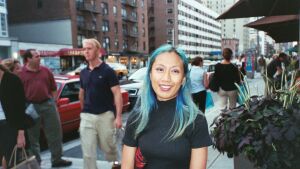 7/24/2002 Evening - Went downtown to meet Benkei and friends. Had dinner at
Cafeteria
. Looking over the menu, I just had to get the Fried Chicken and Waffles. I love breakfast. I'm a big fan of fried chicken. Why not put them together? Before eating, I took a picture of a cute blue-haired girl. I asked before hand, just because you know, it would be strange otherwise. Not like it wasn't strange enough as it was. Anyway, when I took the picture she said that she had made a face, but I said that was fine, since I didn't want to make her feel like I was hitting on her or anything. As I left, her friend said "Oh great, now you're gonna be in some freak magazine."
---
Go to Page:
1
2
3
4
5
6
7
8
9
10
11
12
13
14
15
16
17
18
19
20
21
22
23
24
25
26
27
28
29
30
31