September 10, 2002
Back to work
Back in New York. Back at Work.
September 6, 2002
Basketball at SMU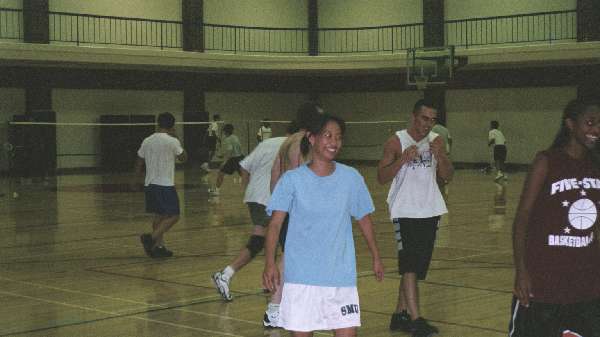 Played BBall back at SMU in Dallas a few times. Lots of fun to be had.
September 1, 2002
Hanging around Austin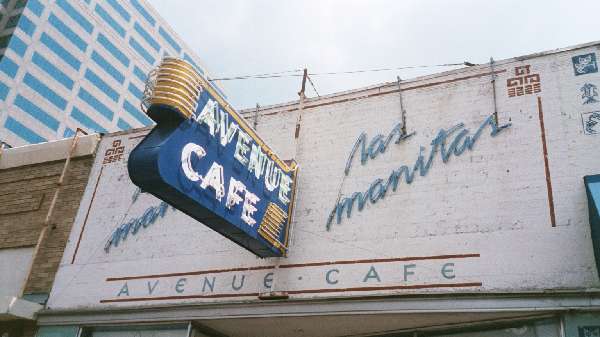 9/1/2002 - Alana and Thon got up and ran at 8:00am. I didn't go; I sprained my ankle playing basketball last week. At about noon we went out to get brunch at Las Manitas Avenue Cafe, my sister's favorite place downtown. It's a mexican place. I got a Plato de Churrizo, which is basically refreid beans, and churrizo with egg. Put all that stuff in a tortilla, and it is some pretty good eating. Of course, it didn't feel right having that for breakfast, but still...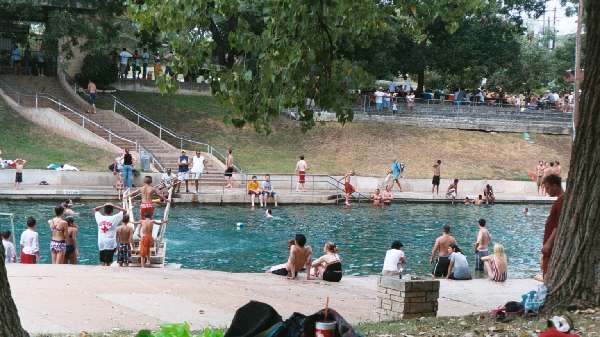 Barton Springs In the afternoon, we went to Barton Springs. It's a part of the Austin city parks, basically a few blocks from downtown Austin. It's a natural spring that flows up from limestone which Austin built a nice little park around. The water is always a chilly 68 degrees, so it's pretty cool to go out there on a hot day and relax on the grass, popping in and out of the water. Of course, it was pretty crowded since a lot of Austin seemed to have had the same idea that we did...
For dinner, we went to Mangia, which has the best pizza in Austin, according to my sister. They make a Chicago style deep dish pizza there. The owner is a die-hard runner, and wanted to have a "healthy" pizza, so he created a deep dish spinach double stuffed pizza on whole wheat bread. That is what Alana and Thon ordered, while Dad and I got a double stuffed mushroom, smoked bacon and pineapple pizza on a white crust. It was actually very good. Afterwards, we headed home, and mom and dad took the Allante back to Dallas. Thon, Alana and I headed out to a nearby park with a view of "bat bridge." This is a bridge that has tens of thousands of bats living under it, and at sunset, the bats come out and fly around. We took a seat on a dock near the UT-owned boat house, and settled down to watch. Unfortunately, bat season is just about coming to an end - the bats are migratory and head to Mexico for the winter, and there were not too many out for us to see. On the way back, we stopped at Amy's Ice Cream again, and I got another chocolate (dark chocolate this time) with strawberries and hot fudge, "sundae style" (so the strawberries weren't pounded in to the ice cream.) That improved it, but still it wasn't up to Halo Pub standards.
At home, we watched a few episodes of the Simpsons from the newly acquired season 2 DVD that Thon picked up, and then played a game of scrabble to the Director's cut of Aliens (which Alana has amazingly, never seen before.) I got completely trounced by both Thon and Alana, and we finished off the movie. I'll have to play more scrabble...

August 31, 2002
Amy's Ice Cream in Austin
Drove down to Austin today. It took about 4 and a half hours - going the speed limit the whole way. Which is how I usually drive. Anyway, came out here to visit my sister and her boyfriend. They took us to a really nice dinner. The food wasn't so amazing - standard tourist spot type fare - but the view was just great. The place was called "Oasis", and it was up on the top of a hill overlooking Lake Travis. We got a great view of the sunset. Highly recommended.
After dinner we met up with dad, and went down to Amy's ice cream. It was really good, but not as good as Halo Pub.
August 27, 2002
August 24, 2002
Evan and Veronica's Wedding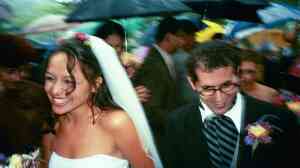 I went to
Evan and Veronica's wedding today
. It was out at a park in New Jersey, and was a lot of fun. I would have loved to have stayed for more of the merriment, but I had to catch a plane to Dallas...
August 13, 2002
August 12, 2002
Bachelor Party in Las Vegas
Just got back from Las Vegas. That is an expensive city.
I've got some pictures up over here.
Maybe. I think I'll be eating lots of curry rice - at least until my next paycheck...
August 3, 2002
Max Soho and Showman's
Met up with Y.I. for a video (As Good As It Gets) and dinner. We ate at
Max SoHa
which is usually pretty good. Then we headed down to
Showman's
for some drinks and jazz. Pretty fun evening, all told.
July 28, 2002
Fort Tryon Picnic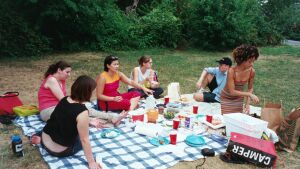 Met some friends at Fort Tryon park near the Cloisters for a picnic. I brought the proverbial
bucket of KFC chicken
. While walking through the park, I noticed a cute little cafe that I've put on my list of places to try called
The New Leaf Cafe
. I haven't had good luck with picnics - it was really hot and humid, and at the previous picnic I was on (4th of July 2002) in Central Park it was also amazingly, meltingly hot.
July 27, 2002
The Mercer Kitchen
Brunch downtown at SoHo with Y.I. at a place I've been meaning to try,
The Mercer Kitchen
. Brunch has been one of my favorite meals lately, and I've been frequenting Kitchenette Uptown, so it was nice to compare. I had a great pancakes with banannas and mixed berries dish. Really fresh, tasty fruit. Afterwards, we checked out the new Apple store (pretty cool!) and did some shopping in the area. I picked up a new candle from Portico and some clothes on sale from Bananna Republic...
July 24, 2002
Some Freak Magazine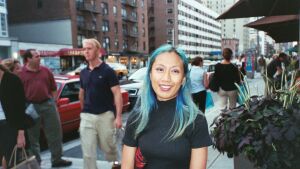 7/24/2002 Evening - Went downtown to meet Benkei and friends. Had dinner at
Cafeteria
. Looking over the menu, I just had to get the Fried Chicken and Waffles. I love breakfast. I'm a big fan of fried chicken. Why not put them together? Before eating, I took a picture of a cute blue-haired girl. I asked before hand, just because you know, it would be strange otherwise. Not like it wasn't strange enough as it was. Anyway, when I took the picture she said that she had made a face, but I said that was fine, since I didn't want to make her feel like I was hitting on her or anything. As I left, her friend said "Oh great, now you're gonna be in some freak magazine."
---
Go to Page:
1
2
3
4
5
6
7
8
9
10
11
12
13
14
15
16
17
18
19
20
21
22
23
24
25
26
27
28
29
30
31