September 14, 2018
August 21, 2018
2018 Fall Topanga League Information
Table of Contents
The Topanga league is a long-running tournament of top players in Japan.
read more
(4773 words)
August 17, 2018
A report on the signing ceremony for the "Japan and Saudi Arabia eSports Match" agreement.
4gamer.net posted an article about a new Japan - Saudia Arabia eSports venture that will take place in January 2019. Ian Walker started an interesting twitter thread about the FGC and taking money from Saudi Arabia. I think he has a good point there, but since this is the second time I've seen someone talk about this article, I thought I would put up my translation here so people can see the source, and then talk a bit more about the implications.
My translation follows. As always, all mistakes are my own, I'm not a professional translator, etc. I haven't done any real editing on this, and it is a bit rough in places.
read more
(905 words)
July 26, 2018
Why would a 5th grade girl enter a Pro Gaming team? We ask her what she thinks about it.
Fugu here. I thought this was an interesting article, so I decided to translate it. The US equivalent school year might be either 5th or 6th grade. All errors are mine, I'm not a professional translator, constructive criticism is welcome. In interviews like these, the interviewer will often directly address the intervee by name, I might drop that to make for a more natural sounding interview at times. If I use "you", it will generally be ths subject of the interview, Honoka-san, unless it is clear from previous context. Please see the source article at inside-games.jp for a much nicer formatted version with nice pictures.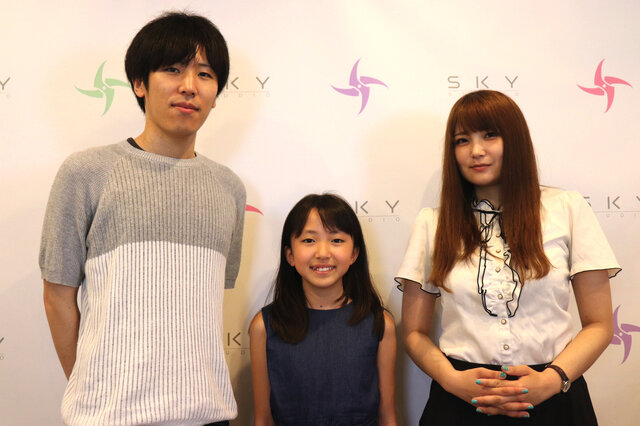 Momochi (left), Honoka-san (middle), Touru-san (right)
read more
(3752 words)
July 25, 2018
2018 August and September Fighting Game Events in Tokyo
Previous: 2018 June and July Tokyo FGC Events| Next
Seems like I've gotten into the habit of tracking FGC offline events in the Tokyo area. This isn't a comprehensive list, but feel free to contact me if you want me to add anything.
Very generally:
I don't really track free play events or tournaments at arcades - there are lots of them. maplejpca tells me that there is a free play UNIST every Friday night from 8pm to 10pm at Sega Nishi Shinjuku. The arcade scene is vibrant, and you are likely to find competition at any arcade, but some are more well known than others. You might want to check out
Mikado Arcade, Map Takadanobaba
Taito Station Shinjuku East Exit, Map
Various arcades in Akihabara, Club Sega, Hey!
Various shops in Akihabara like the retro game store Super Potato, Map
Play Spot Big One 2nd, Map. Out in Chiba, but good place for 3rd Strike or Melty Blood. (Thanks Arlieth!)
Game Newton, Map. Lots of ST setups.
Your Warehouse, Map Kawasaki (For the crazy design)
read more
(4433 words)
July 13, 2018
Capcom supports SFV as an eSports game in Japan
A note on word choice: I used the word "eSports" here a lot. People have strong feels about that word. I don't mind it so much, and I could just as happily write "popularizing fighting games" or something. I certainly don't think eSports means you need to wear a suit, I think you generally should always be respectful of people regardless of race, gender, ethnicity, age, or sexual orientation, but eSports probably does have more of a monetary aspect in it than the grass roots does.
I've noticed lately that Capcom Japan has been doing some good things to support SFV as an eSports vehicle. A lot of people are concerned that any eSports activity around fighting games should keep in mind the grassroots origins of the Fighting Game Community, and I agree that is important. I do think there is space for a variety of content around Fighting Games, and while I love the Open Tournament format, I also see room for other kinds of events and entertainment. I'll write a bit about some of what Capcom has been doing, which is decidedly on the eSports side of things, but I still think is good for fighting games, and the community at large.
read more
(3796 words)
June 25, 2018
Yoshimoto Gaming BlazBlue Cross Tag Battle tournament
The tournament is Single elimination, First to Two, random stage. Loser can change characters.
VOD up on youtube, with top 8 beginning from 3:19:50. Teddy Bui had a great comment with the players and timestamps, which I used to put this together.
Koji KOG (Waldstein / Tager) was in the tournament, but lost just before Top 8. I always loved Koji KOG's T.Hawk, and I love that he's got the big body team in this game.
The commentary team says that all the people in top 8 are well known, but with my Street Fighter background, I don't recognize the names. :-( Before the top 8 everyone introduced themselves. Lots of people from the Kanto (Tokyo) area. Kubo is from Nagoya. Dojidoji says that he has enjoyed this game so much he only gets 3 hours of sleep a night. I was hoping they would talk about the rules for this top 8.
Before the finals
Top 8:
Results:
5 Taro (Yu/Tager)
5 Minami (Ruby/Es)
5 ROW (Ruby/Carmine)
5 Dojidoji Otoko (Yu/Hyde)
4 Ho-Chan (Ruby/Jin)
3 Makkoi 8-sei (Ruby/Gordeau)
2 Senaru (Waldstein/Vatista)
1 kubo (Hyde/Ruby)
Kubo received a Yoshimoto Gaming jersey (which he is obligated to wear at EVO - the website had some interesting information about the conditions, and that was one of them) and financial support to go to EVO. Kubo says that he plays other games as well, and will continue to play BBTAG and other games. Ozawa from Arc System Works gave a little speech afterwards too, and said that Kubo was very active in the Cross beta test period, thanking him for that. He says that the DLC released on the 19th was cleared to use at EVO, and thanks everyone for coming today.
The tournament was at Akihabara eSports Square, and Kagecchi helped organize it. I don't think he gets enough recognition outside Japan for the work that he does for the scene - he puts on the weekly Fighter's Crossver -Akihabara- locals, and often organizes other events, like the USF4 side tournament at 2018 EVO Japan. Please thank your local TO and go to your local tournaments!
June 23, 2018
Interview with Itabashi Zangief: You can't win just by "being good".
This interview is from entrenet.jp. Published on 2018-06-22. I could not find an attribution to the interviewer, but if you know who it is, please let me know and I'll update this post.
I'm an unabashed Itabashi Zangief fan, so I really enjoyed reading and translating this. I'm not a professional translator, and I take some liberties here, but I think the feel of the article comes across. The original article is formatted a bit better, but this gets the information across just fine.
read more
(2453 words)
June 12, 2018
Sako and Ryuusei join FAV Gaming, and we talk to them about it
Sako and Ryuusei have joined FAV Gaming to start their fighting games division. This famitsu article has an interview with them, and I thought it would be fun to translate it.
Just a little bit of background information on G'z Brain: they are a publishin / web site / marking / consulting company that is most well known for publishing the Famitsu gaming magazine, and are part of the larger Kadokawa publishing family of businesses.
read more
(3310 words)
May 27, 2018
About Japan's RAGE Street Fighter V All★Star League powered by Capcom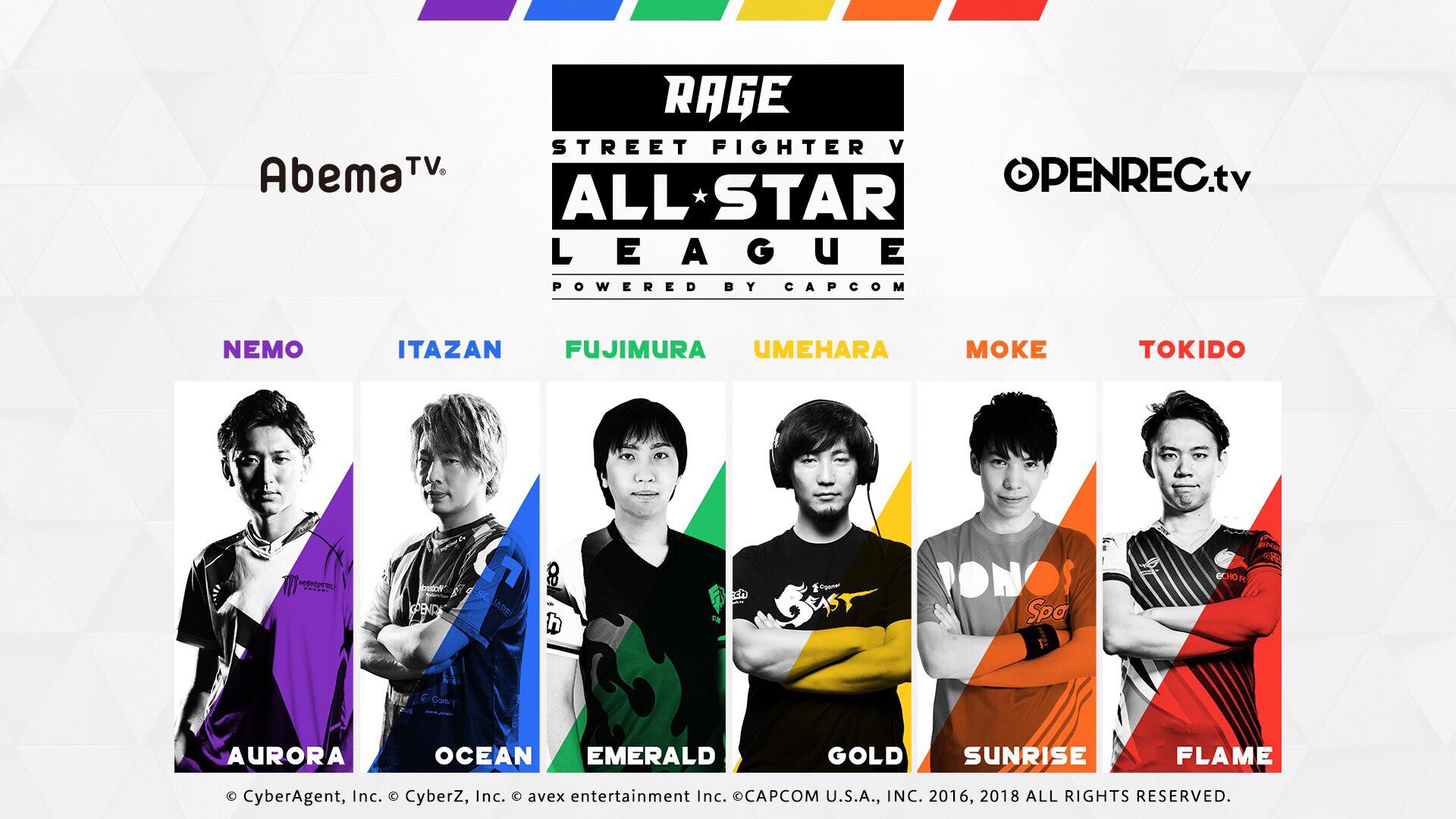 RAGE is running an "All Star" League for Street Fighter V in Japan this year. This post will talk a bit about what RAGE is, provide information in English about the event, and include links to streams. I'll keep the post updated with new information as I see it. Many of the source links will be in Japanese, but I'll note when there is an English link.
read more
(28437 words)
May 13, 2018
May 2, 2018
Various things happening in Japan and Fighting Games
Table of Contents
It is currently "Golden Week" in Japan - a time at the start of May when there are three to four National Holidays, so it is easy to take a day or two off and get a long vacation. All sorts of fun stuff happens during Golden Week, like it being almost impossible to get airline or shinkansen tickets, hotel reservations, or find any sort of place that isn't packed with people. In the Fighting Game community, a bunch of events are taking place (I track events I know about in a different blog post). I thought it would be useful to highlight a few of things that have been happening or will happen, and write a bit about them.
read more
(1675 words)
Storm Kubo's post about Vietnam's Saigon Cup
Not too long after the Saigon Cup, Storum Kubo posted an entry on his blog about the trip. I thought it was fun, and have translated it. I am not a professional translator, just a regular old Street Fighter fan who has some familiarity with Japanese. I'll translate thinsg that I think are fun and put them here. I saw this and thought it was a very fun and funny look at Storm Kubo's trip to Vietnam, and helps you get an idea of his character a bit outside of the game. Original article on Storm Kubo's blog. Many thanks to Storm Kubo for giving me permission to do the translation.
read more
(818 words)
April 14, 2018
What was EVO Japan aiming for? We ask steering committee president Hameko.
I saw this article about the goal of EVO Japan on twitter, and was interested. I've never been to EVO, and I was super excited for the chance to attend and volunteer at EVO Japan. One of my goals was to have a good time, help foreign attendees navigate the event, and share my love of both fighting games and Japan. So I'm curious to hear what the actual steering committee was thinking about. The article was written by Sawatari Masashi and published on the Alienware Zone Japan site.
As always, this is a personal translation, I'm not a professional translator, and any mistakes or misrepresentations are entirely my own.
read more
(4219 words)
April 6, 2018
The Garcia Girls visit Japan
Table of Contents
1

Arrival, 2018-03-27, Tokyo
On Tuesday, March 25th our cousins, the Garcia Girls, came for a visit to Japan. We often stay at their parents' place in Washington state when we visit, so we are super excited to show their kids around Japan. Their flight was supposed to arrive at about 5pm, but it was delayed by an hour and didn't get in until 6pm. When I asked them for the reason of the delay, I was pretty surprised: they had been in the air for almost an hour, then turned around. The airline said that they let off a sick passenger before they got going again. I've never seen such a thing happen myself.
I was happy that I recognized the girls, and they seemed to know who I was, so there's that. We headed down to the train station and waited in line to change in the vouchers for the JR Rail Pass. Anyone coming to Japan to visit should at least look into getting a JR Rail Pass. For about the price of a round trip Shinkansen ticket from Tokyo to Kyoto you can get a ticket that lets you ride JR trains for free, even including the Shinkansen (except for the fastest service, "Nozomi" trains, which sadly are also the most frequent). It is an amazing deal, which probably explains why we had to wait for about an hour to exchange the voucher. Once we did though, we were able to go to the Narita express and they could ride that for free.
We met up with Lisa and Alan, and then had Ramen for dinner.
We had a busy evening planned, although that was, to some degree, an accident. I knew that they left on the 24th, and told Lisa that is when they would get here, but of course the flight lands a day after it arrives. Since we were going to travel with them, we thought it would be fun to make it unique, and also do some things that we would enjoy. Alan really loves trains, so we made a reservation on the Izumo Sunrise Express, which is an overnight sleeper car train. They have various classes of service, and we reserved four individual berths. Each berth was super tiny - I could only stand up in the doorway, the rest of the berth was the bed, and my shoulder could almost touch each wall when in bed. It was longer than I was though, for which I was grateful. Lisa and Alan slept together - and the mechanics to get that to work must have been pretty difficult. She said she didn't get much sleep with all his moving around.
The Sunrise Express does have a shower on it, but you have to pre-purchase tickets for the shower from a vending machine. By the time we had settled in the tickets were sold out. Too bad. I hear that the showers are only six minutes long, but I'm sure the girls would have appreciated a shower after the long flight from Seattle. Sadly, they didn't get one.
I changed into the Yukata provided with the berth, prepared for bed, and then laid down. It was a strange feeling, trying to sleep on a moving train. We stopped every once in a while, and I realized that, but I feel like I got some refreshing sleep all the same.
read more
(5599 words)
March 24, 2018
March 22, 2018
Talking to the "Pro Gamer Couple" Momochi and Chocoblanka about esports as a job and the severe reality of money
I saw an interesting article about Momochi and Chocoblanka. I decided to translate it into English. I'm just doing this on my own, and even (gasp!) hotlinking the images, so that might disappear at some point. Any mistakes are mine, please refer to the original article to see it formatted better.
---
read more
(4230 words)
March 21, 2018
NHK's "The Style of Professional Work: New Jobs Special"
NHK aired a special in their series on jobs about new types of jobs, with a focus on a YouTuber and Professional Gamers.
I'll summarize some interesting points for the Pro Gamer section, which featured Diago Umehara. The YouTube portion followed Hikakin, who I didn't know anything about. Interesting guy, but I don't think people reading this blog are interested in that as much as they are Daigo. ;-)
Cameos:
| Person | Comments |
| --- | --- |
| Arlieth | Gettting hype in a crowd. |
| Verloren | Billed as "Pro Gamer" and he explains that Daigo is a Legendary player |
| Tokido | "Pro Gamer Kouhai" If Daigo didn't exist, there probably wouldn't be pros in Japan |
| Otani (I think) | Talks with Diago about the Akuma/Guile matchup. |
| James Chen | On commentary at CapCom Cup |
| UltraDavid | On commentary at CapCom Cup |
| MenaRD | Beating Daigo at CaoCom Cup |
| Momochi | Winner of previous CapCom Cup, loses to Daigo in losers as Daigo goes to top 8 |
| Moke | Beats Daigo in top 8 |
read more
(1509 words)
March 20, 2018
RAGE 2018 Spring New Generation Esports event
RAGE 2018 Spring New Generation Esports is a large gaming event held on March 21st in Makuhari Messe Hall 6 with a variety of tournaments attached to it. The main events are Street Fighter V, Shadowverse, and Splatoon 2. The venue opens at 9am, things start at 10am, and things should end by 8pm. The website says that entry is free and anyone can go and watch / support the players.
I think you can go to Makuhari Messe and check things out - there are Cosplay competitions and booths, and lots of other stuff going on there. You might also be interested in going to the special event at Akihabara E-sports Square (Map) from 1pm to 10pm where there will be casual setups to play SFV if you just want to play.
read more
(807 words)
March 18, 2018
P2G Gaming Event at Redbull Gaming Sphere Nakano
On Sunday, March 18th, Shinobism's Project Gaming Girls (P2G) held a multi-title gaming event at the RedBull Gaming Sphere in Nakano. This was a multi-title event, with Capcom's Street Fighter V, Nintendo's Splatoon2, Blizzard's Hearthstone, and Capcom's MVCI. The event was from 1pm to 5pm, with the various P2G members hosting activities for the games that they play.
First, what is P2G? P2G is a gaming team that Chocoblanka and Momochi started last year, and have expanded this year. They sponsor women specifically, but probably not in way that you would think typical of gaming teams. Here are some excerpts from the P2G page:
The goal of Project Gaming Girls is to increase the number of women that enjoy playing games and to create a community of women who love games.
It is difficult for women to entry existing gaming communities. There are not as many commonly accepted ways for women to start getting into games, and because there are few women they often stand out and can be subject to good or bad attention.
Games are for fun, and we would like to increase the number of women that enjoy playing games. We'll try to do what we can to help support that goal.
We want to support women who enjoy playing games.
We have two requests for the women we support: please continue to keep playing games, and interact in a positive and fun manner with people at offline events.
Importantly:
P2G supports all people who love games without regard to a person's particular skill at a game, aiming for all people who love games to continue to express the joy they feel gaming. [TL: Super loose translation!]
So P2G has as a goal expanding opportunities for women to get into gaming, and to continue doing it. I think that is a great goal, and I also think it is an obligation of every gamer to be friendly and welcoming to all people joining the community, and to treat everyone fairly and without bias.
This is the first event that I've been able to attend hosted by P2G – and it might be the first one they've held, since I've been following since the beginning and don't remember any other events.
The event was held at the new RedBull Gaming Sphere, which is a very nice space in Nakano. Admission was free, which is amazing if you think about it. Somehow P2G was able to organize support from a variety of sponsors. That explained the presence of Nissin, who also had a big hand in sponsoring EVO Japan 2018. There was pre-registation for the event, but there weren't so many people that it was overcrowded. The space was separated into stations by game.
7 SFV setups
8 Splatoon 2 setups with monitors
8 Splatoon 2 setups just on free standing Switches.
A bunch of tablets for Hearthstone and Clash Royale, one or two of which were connected to larger monitors.
1 lonely MVCI setup, alone, feeling a bit sad.
1 "hidden" DBFZ setup in a room that nobody noticed except the cameraman who was in training mode for quite a while.
The staff was checking names to make sure you had registered, and they asked you whether you would be OK appearing on stream or not. If not, you got a red lanyard and a name tag to write your name on. If you didn't mind, you got a green lanyard. In Japan, people are very concerned with personal privacy. You often will have notices posted at events if there is streaming, and I like that hear that have a nice little solution with red/green colors to make it clear. None of my photos should show people with red badges, and I tried to choose pictures without many identifiable features for the non-P2G members (who I assume are ok with it, since they do media appearances - although thinking about it now, I should have asked).
Mostly during the event people played casual matches. I wandered around and looked at some of the other games. I've never played Splatoon, so that was interesting. I get lost in real life though, and 3-d games like that are tough for me. I would have to play that game with the map on all the time. It does look pretty fun though. I'm going to stick with 2-d games on single plane though.
Harumy is the SFV focused P2G member, and she was playing people on one of the setups. At some point, she called for people to take part in a 5-5 team battle, and we did that. The team battle mode in SFV is really pretty fun. We later did a tournament for a random 3-3 team battle, which was lots of fun too. The winner took home a case of Nissin spicy cup noodles.
The other sections had various tournaments and activities as well, but I spent most of my time in the SFV area, playing games and talking with people.
Near the end of the event, the P2G members held a group rock-paper-scissors competition to distribute various prizes. The event was lots of fun, and they announced that they plan to hold similar events in other locations across Japan. That is another interesting point - right now, Tokyo and to some degree Osaka (thanks to Cyclops esports basement) are the only two hotbeds of SFV activity. I'm not as aware of other scenes, but it is really nice to see things happen outside of the two major population areas.
Keep your eyes out for P2G members, and give them some support if you can!
---
Go to Page:
1
2
3
4
5
6
7
8
9
10
11
Navigation
Calendar
Earlier Posts
Blog Sections
bBlog
a free PHP Blogging script.