February 8, 2009
Game Center CX: So totally nerdy, it has to be Japanese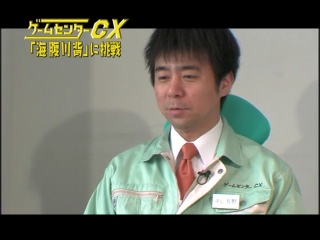 Arino-san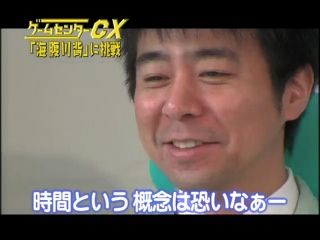 Arino-san up close. He's afraid of "the concept of (a) time (limit)!"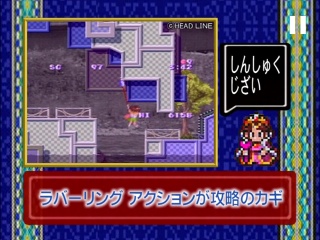 Game screen shots with little explanations of the game characteristics. In this case, rappelling action is the key to the strategy.
A while back I heard about
Game Center CX
(and an
English Wikipedia link also
.) It is a TV show that is on Fuji TV, a normal TV channel broadcast over the air, about video games. The main focus of the show is Arino-san, a guy in this mid-30s (?) who plays video games. It is a kind of twist on a conventional Japanese formula: put people in painful or awkward situations and see how they respond to the adversity. The painful situation in this case? Play a difficult game from the 80s to completion. These games are tough. Also, Arino-san is pretty much locked up in a room and not allowed out.
Of course, as with almost all funny people on TV, Arino-san is from the Kansai region. I'm not really sure why he is so funny, but he is really funny. He's playing some game, and gets up to the end boss. He pauses the game and is like "What's that? It's HUGE!" but the way he says it is hilarious. I've watched the first 5 rental episodes of the show (there are 6 total) and have enjoyed each one.
The versions that are available for sale are actually different from the rental versions. I have enjoyed these things so much that I am thinking of picking up the box sets (1
2
3
4
5
).

The other interesting thing is that there are two Nintendo DS games based on the series which are compilations of re-made retro games. That sounds interesting to me too. I really want to pick up a Nintendo DS soon: they have
nice dictionary software (漢字そのまま DS楽引辞典)
and "games" for
learning how to write kanji (DS美文字トレーニング)
that I would like to try.
The "Division Chief" (課長 - Arino-san) plays some tough games. I was interested when he played Prince of Persia (the Super Nintendo version.) I played Prince of Persia on the Apple //e (after Karateka), but I never got very far at all. So it was really interesting to watch Arino-san go at it. I'm glad I didn't put much time into the game: it was super crazy hard!
He also took on both Ghosts and Goblins and Super Ghoul's and Ghosts, both of which I've played, and never got very far in at all. Those are tough games.
Anyway, check out the Wikipedia link. It is comprehensive. Nerds. I highly recommend the show. The Japanese is fairly accessible, it is super funny, and even if you don't understand Japanese just watching the games is pretty cool.

February 7, 2009
February 1, 2009
January 31, 2009
January 30, 2009
January 20, 2009
January 19, 2009
January 18, 2009
January 17, 2009
January 13, 2009
January 12, 2009
January 8, 2009
January 3, 2009
---
Go to Page:
1
2
3
4
5
6
7
8
9
10
11
12
13
14
15
16
17
18
19
20
21
22
23
24
25
26
27
28
29
30
31
32