March 24, 2009
March 23, 2009
Apple's FrontRow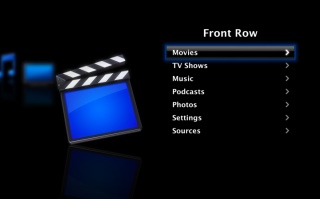 Front Row Main Menu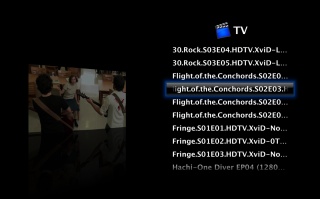 Front Row TV Menu
On this trip to the US, I brought two machines with me: my work laptop (older, small Dell running WinXP, ugh) and a bigger, middle-aged MacBook Pro 15" laptop running OSX. OSX is really great. I can not praise the
automated backup facility it comes with
enough. I also love the E-mail client, and all of
iLife
is pretty amazing also.
One thing I have never really played with though is Frontrow. So I thought it would give it a try. My MacBook came with a cute little remote control, and after putting the mac up on the desk and settling back in the chair with my other laptop for some work last night, I started Front Row up. I was really surprised with how easily it worked. I threw all my media files into a folder on the Movie folder, and navigating there was really easy. The remote works very well. I can read things from across the room. The only thing I couldn't do was delete a file after watching it, but that isn't really a big deal.
I was really impressed with how smoothly things went for playing video. The only problem is that it uses Quicktime to play files, and so isn't quite able to play all formats that I would expect. For example, I have a few files encoded into OGM (Ogg Media format), the open-source container, and Quicktime didn't know what to do with that. I got an error "the video could not be played: the format was not recognized". That is understandable - I never put any OGM codecs on the system, even though I can play the files with the VLC media player.
Perian is a codec that should let me play .mkv files, and perhaps .ogm. I'm not sure about that, but I installed and downloaded it anyway. The Xiph Quicktime components purport to support Ogg Vorbis in QuickTime. After installing that I could get the music to play, but no video. Too bad. Still, most of the stuff that I have is in an AVI container and more and more of it is coming as h264 content, which QuickTime handles just fine.
I'm really impressed with the FrontRow interface. I think once I am rich I will eventually get a Mac Mini and hook it up to the TV for media-player duties.

March 20, 2009
March 10, 2009
March 6, 2009
March 5, 2009
March 3, 2009
February 26, 2009
February 25, 2009
February 16, 2009
February 11, 2009
February 8, 2009
February 7, 2009
February 1, 2009
---
Go to Page:
1
2
3
4
5
6
7
8
9
10
11
12
13
14
15
16
17
18
19
20
21
22
23
24
25
26
27
28
29
30
31