November 24, 2005
2005 Dallas Turkey Trot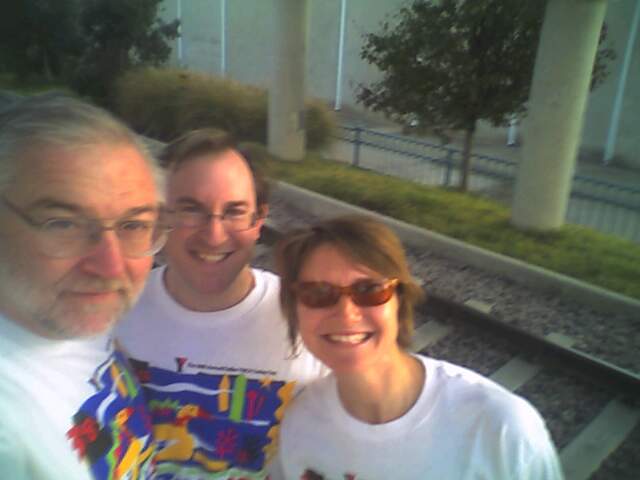 On Monday the 21st I arrived in Dallas from Tokyo. The flight went well, in particular since I requested a seat with a power plug, I was able to use my computer for about four hours, and the flight seemed to go quickly. On Tuesday, I drove down to Austin to pick up Alana, and Wednesday we loaded up her can and drove back to Dallas. On the way we picked up our registration packets for the 2005 Dallas Turkey Trot fun run. Alana, Dad, and I were going to run the 5k fun run on Thursday morning. We got up at about 7am on Thursday so we could catch the 7:15am DART train from Parker road. We figured that would be easier than driving downtown since there was supposed to be a lot of people showing up for this race. We missed our train by about two minutes and had to wait about half an hour for the next train. Lots of runners were showing up in the mean time. We were able to get a seat on the train, and boy were we lucky. But the time we had gone three stops, the train was packed with runners, and by the time we hit Mockingbird station there was no room for people to get on. (Or so they thought, a normal Toyoko line late night train would be at least twice as packed.) We made it to the run, and there were 24,000 people there. It was packed. When we started our race it took about 6 minutes to get up to the starting line from where we were lined up. We all stuck together and took the run slowly, it was lots of fun. It ran right through downtown Dallas, and went by lots of historical points in Dallas. I made a Personal Best slow time at 51:50. Afterwards, we had thanksgiving dinner which was nice. Our stove broke, so mom had to run out and buy a broiler for $30, and we cooked the turkey in that. It turned out fairly well, and probably we'll use the broiler for a while since it is very expensive to get a new stove.
---
Comments
Provide your email address when commenting and
Gravatar
will provide general portable avatars, and if you haven't signed up with them, a cute procedural avatar with their implementation of
Shamus Young's Wavatars
.
Comments have now been turned off for this post