August 24, 2021
Street Fighter League: Pro-JP 2021
Table of Contents
Street Fighter League is happening again this year. Street Fighter League: Pro-JP 2021 will start in October, with a pre-season that has games 2021-09-25 and 2021-09-26.
This year's league is structured differently from previous years: the teams are professional eSports teams or corporate sponsors. Since there are existing players on eSports teams, there was a very interesting process to choose members for all the teams. Similar to previouus years, there is a draft with multiple entry points.
1

Leading up to the Draft
There are multiple tryout tournaments, an Under-22 tournament, and tournaments for JeSU pro license holders. Those all feed into a pool of candidates for the Draft, which happened 2021-08-22. Prior to the draft there was a tournament and exhibition matches for the teams to evaluate, and at the draft itself the teams could ask for particularly candidates to play exhibition matches. There were also interviews - this was all streamed, and was a lot of fun to watch.
Each team hosted a Tryout tournament - which is strange, because some teams didn't have spots open on the roster. The top two in each tournament went on to join the draft pool. Here are the tournaments and top two winners for each:
| Date | Tournament Sponsor | Archive | 1st place | 2nd place |
| --- | --- | --- | --- | --- |
| 2021-06-20 | Gyogun | Mildom | Yossan (Juri) | UPLY - Hershel (Ken) |
| 2021-06-27 | VPlus FAV Rohto-Z | YouTube | NISHIKIN (Blanka) | Gunfight (Alex) |
| 2021-07-10 | Shinobism | Mildom | CTG Ibushigin - Uzura (Ryu) | Oniki (Dictator) |
| 2021-07-17 | Nagoya OJA Body Star | YouTube | YHC-Mochi (Dhalsim) | iXA - Inaba (Dictator) |
| 2021-07-24 | Saishunkan SOL Kumamoto | Twitch | Akira (Cammy) | SNB - Yamaguchi (Ken) |
| 2021-07-25 | Mildom Beast | Mildom | aiai (Juri) | Unsung (Guile) |
| 2021-07-31 | Good 8 Squad | YouTube | Muramasa (Gill) | Melon Soda (Cody) |
| 2021-08-01 | Komyufa Detonation Gaming | YouTube | Moruto (Dan) | Yanai (G) |
| 2021-08-09 | Under-22 Tournament | YouTube | Unknown (Guile) | Sunny (Guile) |
| 2021-08-20 | JeSU Holders Day 1 | YouTube | Akira (Cammy) |   |
| 2021-08-21 | JeSU Holders Day 2 | YouTube | YHC-Mochi (Dhalsim) |   |
So over the course of two months, we built up the pool of candidates for the draft. Note that there are only 6 openings on 3 teams, so the chances of getting in to SFL: Pro-JP 2021 is small. Also, the vast majority of the pool consists of all JeSU Pro License holders (28 players) with 10 others from the qualifiers.
2

The Teams

The teams this year are eSports teams or team with corporate sponsors (or both.) I think that is interesting, and gives a bit more of a theme to each team. Here are the teams:

sako, Ryusei, Tokido, Bon-chan

This is an interesting team: v6 Plus is a network offering from NTT, a telecommunications company. FAV, the eSports team, has a sponsorship with them. This team has sako and Ryusei from FAV, Tokido from Rohto Z (a brand of eye drops from Rohto Pharmaceuticals), and Bon-chan who is a Red Bull Athelete. Their corporate sponsor is Kadokawa Game Linkage (owner of FAV Gaming) - a large publishing company worth about 25.6 billion yen (about 233 million dollars) per their common stock valuation.

Gachi-kun, Kawano, Pugera, and Kichi-pa.

Good 8 Squad is an eSports team that does eSports development, player management, and aims to increase competition and expand the eSports fields. I assume the sell hoodies and shirts, since that's all I've really seen about how they might get income. They're pretty new to me - I only started seeing them about three months back when they picked up Gachi-kun. They have holdings of about $100,000 according to their company profile.

Nemo, Shuto, Nishikin (†), Yanai (†)

This team is based out of Kumamoto (Western Japan), and has roots in LeGaime Kumamoto, a group that was devoted to improving the eSports scene in Kumamoto. They helped out with previous Capcom efforts in the area like the Rookies Caravan. They created the new Saishunkan SOL Kumamoto team to amp up the interest in eSports in Kumamoto and participate in SFL.

The corporate sponsor is Saishunkan Systems, an Information Technology systems company founded in 1985 with 155 employees and about $450,000 in capital.

† Added in the draft
Comyufa DetonatioN Gaming
Itabashi Zangief, Nauman, Takeuchi John, Tachikawa
DNG has been around for a while in Japan, and Itabashi Zangief has been associated with them for a few years now. They have a full team - though Tachikawa is a pick-up for SFL: he was on DNG, then started to focus more on DBFZ and ended his tenure with the team. They brought him back for SFL though in a nod to his past association. I've never looked into DNG too much before, but Komyufa is an internet fiber networking product of ctc (Chubu Telecommunication Company, Chubu is a region in Japan.) Interestingly, Chubu Telecommunications Company is not the corporate sponsor for this team.
The corporate sponsor is Sun Gence, a company that does eSports promotion. I've never heard of them before, they say they do consulting, event planning and organization, player management, and things like that. They have about $100,000 in funds, and employ 14 people (including part-timers.)
This is Momochi's team, and includes himself, Fujimura, Higuchi, and Ohtani. Momochi and Chocoblanka founded the team and corporation.
The corporate sponsor is Shinobism, founded in 2015, and I couldn't find anything about their funding or valuation.
Daigo Umehara, Fuudo, YHC-Mochi (†), Moruto (†)
This is Team Beast.
Their corproate sponsor is DouYu Japan. DouYu Japan runs the Mildom streaming service in Japan. Founded in August 2019, they are the Japanese arm of the Chinese DouYu streaming service. The parent company (DouYu) is valued at about 753 million USD.
† Added in the draft
Mago, Machabo, Moke, Mizuha
Gyogun is a team that was recently founded (this year anyway) and includes the Kachitagri TV group.
The corporate sponsor is TOPANGA. TOPANGA has been around for a long time - founded by Toyota Fuusuke (AKA Nyanshi) and has been around since at least 2012. He's involved in a lot of the large tournaments and has been organizing for a long time. I couldn't find much information about TOPANGA as a company though.
MOV, Dogura, Akira (†), Oniki (†)
This is an interesting team - it is based out of Nagoya. MOV and Dogura have roots there. OJA stands for Owari Mikawa, two regions in the area. J is for Japan, and A is for Asia, to represent how they are spreading out. This team is really interested in promoting the Nagoya region, which is cool.
The corporate sponsor, also pretty interesting, is the Oyatsu Company, a snack food producer. One of their popular products is Baby Star ramen snacks, a kind of snack based on dried ramen noodles. I'm pretty sure that is what Body Star comes from. The company was founded in 1948, and has about 900 million USD in assets.
† Added in the draft
3

The Format

This year there is no ban rule. Instead, there is a Home and Away system. Teams will be assigned as Home or Away teams (and each will have the same number.) The away team needs to specify team order for the 3 players that will play, and the characters they will use. The home team then gets time to confer and decide who to send up first. They get time after each match to decide who goes up. Teams are four players, so one player ends up not playing. Losers are able to change characters, so these are not character locked. Either loser or winner can change V-trigger / V-skill. The first two matches are BO3, the final match is BO5. The first two matches are worth 1 point each, and the final match is worth 2 points.

So the Home team gets a strong advantage in choosing which players and characters to put up against the away team. It is an interesting change.
4

The Draft

The main lead-up to the draft was two JeSU tournaments, one on Friday night, and one on Saturday. The winner of each tournament got about $3,000 USD so there was a good reason to play well to win. It also served as a nice venue to show off your skills against other high level players. Akira had a very nice showing in both tournamnets.

After the second tournament on Saturday, there was a bit of a break and then the Draft. The draft itself was interesting. There were three teams that had openings, for a total of six open spots. Easily over 30 people competing for those six openings. Each of the teams interviewed some players, and could request exhibition matches from any of the candidates. There was some really fun stuff in there, and I did a live tweet as I watched. That includes some fun little translations and interactions, so check that out for more context.
Street Fighter League: Pro-JP 2021 player draft starting soon. 6 players will be drafted onto the existing 6 teams (not one per team - some teams are already full, some have multiple openings.) https://t.co/5tMOp6Z8Pz

— FuguTabetai (@DocFugu) August 21, 2021
In the end, Saishunkan Systems picked up NISHIKIN and Yanai, Mildom Beast picked up YHC-Mochi and Moruto, and Nagoya OJA Body Star picked up Akira and Oniki.
5

The Final Teams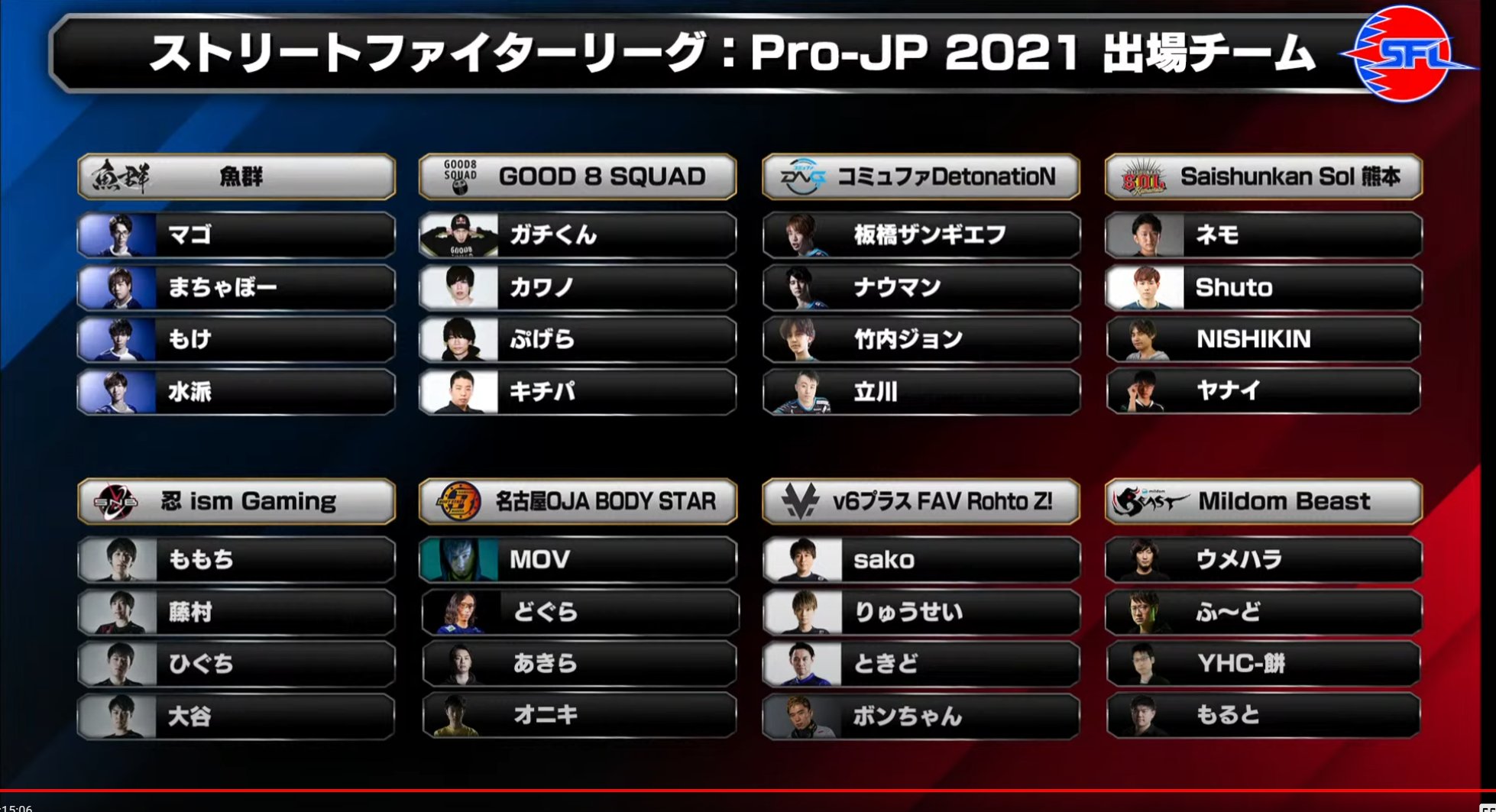 You can see an image of the teams above, or check the teams section. Or check the official Street Fighter League: Pro-JP team page which has really nice pictures.
---
Comments
Provide your email address when commenting and
Gravatar
will provide general portable avatars, and if you haven't signed up with them, a cute procedural avatar with their implementation of
Shamus Young's Wavatars
.
Comments have now been turned off for this post
Navigation
Calendar
Earlier Posts
Blog Sections
bBlog
a free PHP Blogging script.