May 27, 2018
About Japan's RAGE Street Fighter V All★Star League powered by Capcom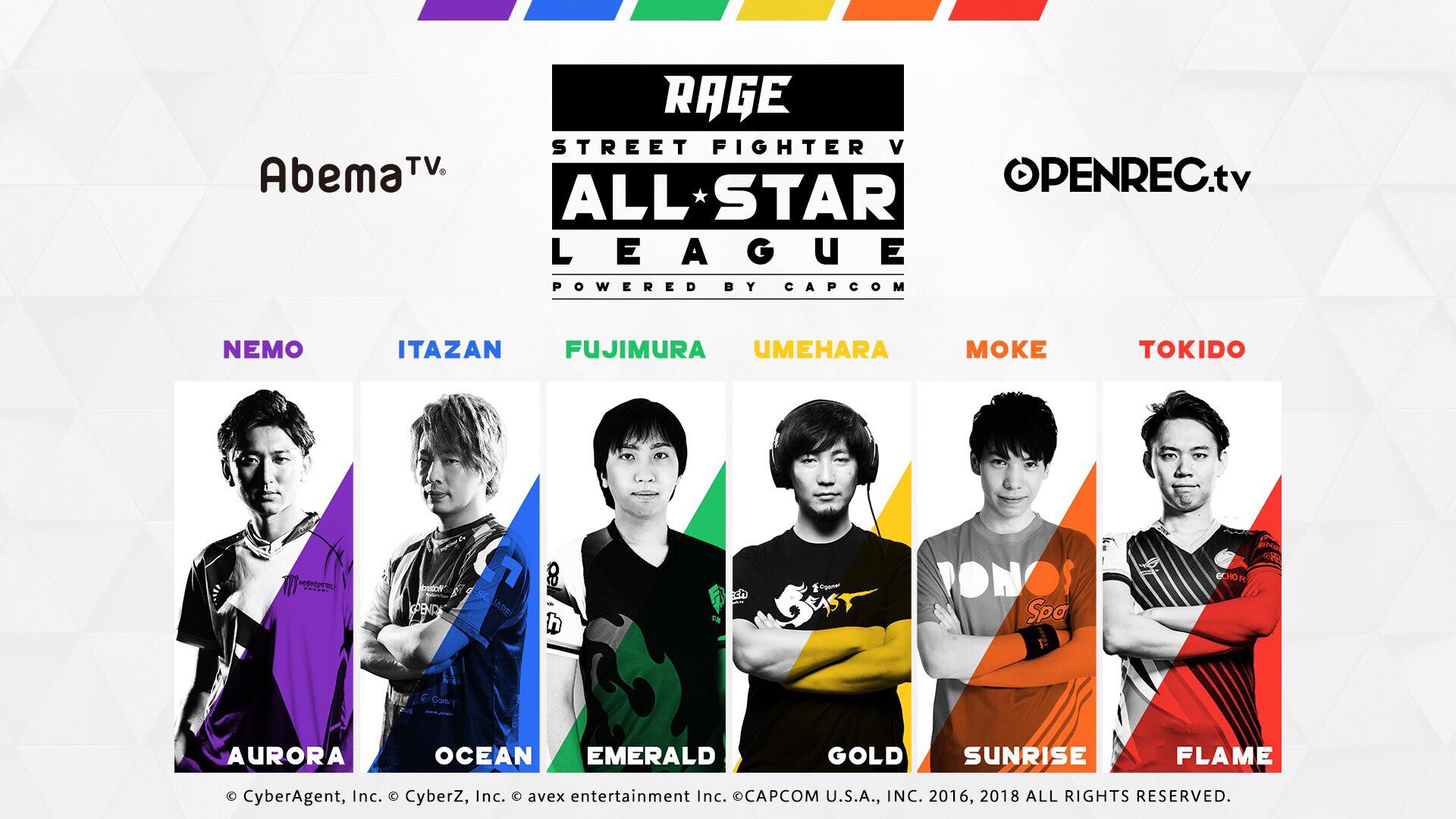 RAGE is running an "All Star" League for Street Fighter V in Japan this year. This post will talk a bit about what RAGE is, provide information in English about the event, and include links to streams. I'll keep the post updated with new information as I see it. Many of the source links will be in Japanese, but I'll note when there is an English link.
1

What is RAGE?

RAGE is an eSports tournament formed by CyberZ in November of 2015. CyberZ is itself a subsidiary company of CyberAgent, Inc., which started out in 1998 in advertising, then expanded into a blog platform, other user generated contents, gaming (Cygames) and media companies.1

RAGE runs tournaments for multiple titles, and in the past has done a lot with mobile game titles and card games. They've run some fighting game titles in the past, and in June will run their 2018 RAGE Summer tournament in Makuhari Messe featuring Shadowverse, read time card battle game Servant of Thrones, and Nintendo Switch's Smash Brothers.

I've seen some of their previous tournaments, and they have high production values with large (for Japan) prize pools now that the eSports professional licensing system has been established.
2

What is the format for the RAGE Street Fighter V All★Star League powered by Capcom?

There will be six teams of three people each, and they will fight in a round robin tournament. There isn't very much on their information page yet, but they say they will "Draft the teams from 6 high level players who had an impact on the 2017 Capcom Cup", and promise that this will be "a new representative of the top SFV league in Japan with the best dramatic battles!" This press release has a bit more information:
Total prize pool is ten million yen, about $91,400 USD. No word on how that is allocated.
They are taking the top 6 Japanese competitors from the 2017 Capcom cup as a leader of each team.
Six total teams, 30 total matches (round robin, each team plays the other teams).
After the round robin league play, the top 3 teams will go on to the grand finals to determine the winning team. (Also round robin, I guess? It isn't specified.)
The team draft will be streamed.
Each team is 3 people, for a total of 18 people in the league.
For the draft, each team leader will take a turn in order to specify one person that they want. The PR does not say who the potential candidates are, or what the order of the team leaders is.
If there is a tie in who the team leaders want, the team will be decided by drawing lots.
The league play will start on June 5th, streamed on Openrec and Abema.
The actual play will use the Team Battle mode with 3 members, 3 rounds and 99 seconds, nothing carries over, order change is on. A set is first to three team battles. Winner of the team battle is the team that gets the most wins in the set of player 1 vs player 1, player 2 vs player 2, and player 3 vs player 3. They will also track the number of rounds won and lost as a tie-breaker.
Concretely, the team to "win" is the team that first collects three stars ★
Each set is a Team Battle mode with three players on a team. The team that gets two wins in the Battle mode wins a star ★. All three matches are always played because the number of player wins within a match contributes to the Battle Points, which is used to rank teams with the same record.
The game is a first to three stars race. So at most there can be five sets, at the other end a team can get a sweep and win in three sets.
Prize money breakdown:
6,000,000 yen (~$54,612 USD)
3,000,000 yen (~$27,306 USD)
1,000,000 yen (~$ 9,102 USD)
How will the teams play? They will play first to three stars, where a team gets a star when they win two of the three games in the team match. So essentially, first to three wins in the three player team battle.
3

What are the teams?

The teams will be decided through a draft. I think this is interesting and fun, and I'm definitely going to watch it and write up my impressions here. Since the team captains are known in advance, you might want to strategically choose players based on the known match-ups at the time of the draft. As the draft goes deeper (there will one round to choose the first player on each team, then another round for the second player by my interpretation of the information I've seen so far) you will know more about the composition of the teams that you will face and that may change your strategy for whom you want to pick.

I'm very curious to see who will be in the pool of players that can be chosen. I see that Fudoh's Fujimura is there, which is interesting. Fudoh is a team that is sponsored by Shinobism, which is Momochi and Chocolanka's company. Momochi has taken a strong stance against the Pro licensing system in Japan, saying that it basically does not honor FGC roots, and CyberAgent is more aligned with the Pro sports licensing system, so I'd be surprised if Momochi is invited. It isn't out of the question though, so I'm interested to see the full field.

The draft will take place May 31st, Thursday night from 8pm JST (although the initial press release said 7pm) and will be streamed (see table below).
Host: Tsuji Yoshinari, a freelance announcer who has done work on TV and radio.
Host: Ayako Hatta, a model.
Analyst: Jun Utahiroba, the bassist for the Golden Bomber visual key "air" rock band, and also an Ultra Diamond (I think) Ken. A funny guy, really is into street fighter, and friendly to boot.
Analyst: Nanai. A SFV Bison player that is heavily involved in running the weekly Wednesday night SFV tournament at Akihabara eSports Square and has been doing a lot more commentary lately. Also an all-around good guy.
Analyst: Yamato, a caster who comments SFV and also involved in the OreRevo series of fighting game (primarily online) tournaments in Japan.
I was excited for the draft, and was glad that I was able to watch it. I had to get my six year old son in bed, but we did start watching together. When Nemo came on screen, he said "I want Nemo to win" – he played Nemo once at Tokyo Game Show 2017 and has been a fan since then. Moke was overseas, so submitted his choices ahead of time. The production values were high, and they had a nice set themed with the colors of the teams. In fact, each Captain had a pen in their team color, and a straw in their team color for their drink. They had nice interviews with the captains after their decisions were made, or when they lost in the lottery for players that were picked by multiple people. The Captains had a plan for their team - Daigo and Tokido both mentioned they specifically were looking at team composition not just in terms of player strength but how well they would get together as a team, which was interesting.
Nemo took the opposite approach and talked a bit about how he chose Storm Kubo who plays a character he really hates. In a later interview he said something like he wants to be up-front with his teammates about who he likes or doesn't like, but I can never tell with him whether he is joking or not.
HiFight tweeted a bunch of stuff during the draft, so check out his timeline for some highlights.
Here are the teams.
| Team | Captain | Player 1 | Player 2 | Comments |
| --- | --- | --- | --- | --- |
| Aurora | Nemo | Kazunoko | Storm Kubo | Lost out on Momochi in the first round. |
| Ocean | Itabashi Zangief | Machabo | Gachi-kun | Itabashi Zangief with the unconventional choices was the only one not to be involved in any ties. |
| Emerald | Fujimura | Momochi | MOV | Tied on Momochi in the first round with Nemo, then lost out on Haitani in the second round. |
| Gold | Daigo Umehara | Sako | Bon-chan | First choice was Fuudo, but lost the draw and got Sako, then lost Mago in the second round but got Bon-chan |
| Sunrise | Moke | Dogura | Haitani | Tied on Haitani in the second round and got him. |
| Flame | Tokido | Fuudo | Mago | Tied on both first and seconds rounds, and won both times. Cue the inevitable "I have MAGO" jokes. |
After the draft they drew lots to make two three person teams, and Nyanshi joined. Nyanshi is an organizer that started a company for running events, and founded or co-founded Godsgarden and Topanga. He ran the SFV bracket at EVO Japan 2018, and is a very well-known figure in the FGC. The exhibition match was random select, so you saw some odd pairings of players and characters.
4

Important Dates with Stream links

I'll keep this updated with events in the series as they are announced.

This tweet says that you can apply to be part of the audience. It is free, they don't provide transportation reimbursement, you need to bring a form of legal ID, and fill out a Japanese application form. Your personal information will be managed by Architect Corporation.

How to watch: if you watch live, either the Abema.tv or OpenRec.tv links will work for free, though you might need to create an account. The Abema.tv links will take you to the archive for past events, and usually you can watch those for free too, but after about a week's delay. To watch the OpenRec.tv archive, you need to upgrade your account to a premium account, which costs about $5 a month (540 yen?) They have an offer for a 7 day trial. There is a special 30 day free trial with the code "sfvallstar" (no double quotes) valid through 2018-06-30 so try that out!

I recommend watching on OpenRec.tv since if the sets go long, Abema.tv might cut to something else scheduled on their "channel". OpenRec won't.
| Date | Event | Time | Comments | Stream Links |
| --- | --- | --- | --- | --- |
| 2018-05-31 Thu. | Team Draft | 20:00 JST., 04:00 Thu. PST | Each of the captains will draft 2 players to their team. | Abema.tv, OpenRec.tv |
| 2018-06-05 Tue. | League Start | 19:00 JST., 03:00 Mon. PST | Nemo Aurora vs Itazan Ocean, Fujimura Emerald vs. Umehara Gold, Moke Sunrise vs. Tokido Flame | Abema.tv, OpenRec.tv |
| 2018-06-13 Wed. | Section 2 | 19:00 JST., 03:00 Wed. PST | Umehara Gold vs. Moke Sunrise, Nemo Aurora vs. Tokido Flame, Itazan Ocean vs. Fujimura Emerald | Abema.tv, OpenRec.tv |
| 2018-06-14 Thu. | Section 3 | 19:00 JST., 03:00 Thu. PST | Itazan Ocean vs. Umehara Gold, Fujimura Emerald vs. Tokido Flame, Nemo Aurora vs. Moke Sunrise | Abema.tv, OpenRec.tv |
| 2018-06-18 Mon. | Section 4 | 19:00 JST., 03:00 Mon. PST | Fujimura Emerald vs. Moke Sunrise, Nemo Aurora vs. Umehara Gold, Itazan Ocean vs. Tokido Flame | Abema.tv, OpenRec.tv |
| 2018-06-19 Tue. | Section 5 | 19:00 JST., 03:00 Mon. PST | Nemo Aurora vs. Fujimura Emerald, Itazan Ocean vs. Moke Sunrise, Umehara Gold vs. Tokido Flame | Abema.tv, OpenRec.tv, OpenRec.tv English |
| 2018-06-26 Tue. | Special | 19:00 JST., 03:00 Mon. PST | Special broadcast looking back on the first half of the RAGE tournament. | Abema.tv, OpenRec.tv |
| 2018-07-04 Wed. | Section 6 |   |   |   |
| 2018-07-05 Thu. | Section 7 |   |   |   |
| 2018-07-10 Tue. | Section 8 |   |   |   |
| 2018-07-17 Tue. | Section 9 |   |   |   |
| 2018-07-25 Wed. | Section 10 |   |   |   |
| 2018-07-27 Fri. | Special |   |   |   |
| 2018-07-28 Sat. | Grand Final |   |   |   |
Footnotes:
1
An income of about 3.4 billion USD in 2017, with a profit of 280 million USD or so.
---
Comments
Provide your email address when commenting and
Gravatar
will provide general portable avatars, and if you haven't signed up with them, a cute procedural avatar with their implementation of
Shamus Young's Wavatars
.
Navigation
Calendar
Earlier Posts
Blog Sections
bBlog
a free PHP Blogging script.