December 27, 2008
Review of Wall-E in Japan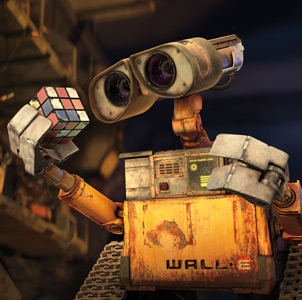 A few weeks ago, R. and I went to a movie. I used to love going to see movies in New York - and I still do love to see movies, but since coming to Japan I haven't had the time or the money. Movies here are super expensive. A ticket for a movie costs usually about $18. If you get food though, it is a lot cheaper than in the US, so that is a benefit. Also they sell beer, which is nice. I have really enjoyed
Pixar's movies
so when I heard that
Wall-E
was coming out in Japan I knew I wanted to take R. to see it. I love robots! And Pixar movies are cute! We can't go wrong!
So I'm sure many people have reviewed this movie before, but I'll put in my two cents. It is a really great movie. Cute and fun. A bit of a scathing comment on commercialization, consumerism, and apathy. It is also just a really cute movie. After the movie we bought matching Wall-E and Eve phone straps, which worked out well because my old phone strap, a little Kubrick Bear Star Wars trooper, had lost both his legs in the line of duty. So now we've got cute matching phone straps.
It was also surprising to me that I could (if I was the unscrupulous type) download a Blu-Ray rip of Wall-E before the movie came out in theaters in Japan if I had wanted. That is crazy! Release these things more quickly in Japan people!
So, a short review that amounts to: good movie!



---
Comments
Provide your email address when commenting and
Gravatar
will provide general portable avatars, and if you haven't signed up with them, a cute procedural avatar with their implementation of
Shamus Young's Wavatars
.
Comments have now been turned off for this post